Lumenology
The bright side of Lumens!
Lumens measure how much light you are getting from a bulb. More lumens means it's a brighter light; fewer lumens means it's a dimmer light. Lumens let you buy the amount of light you want. So when buying your new bulbs, think lumens, not watts.
Lumens = Light Output
Buy Lumens! Not Watts!
Like kilometers per litre (mileage) in a car, the lumens-per-watt rating measures how much light a particular bulb produces per watt of power used. This tells you how energy efficient it is. When shopping for a light bulb, you should first look for the bulbs that produce the number of lumens you need. Once you know the right brightness, you can then look at the lumens-per-watt rating to find the bulb that's most energy efficient.

| Rating | 40W Incandescent Bulb | 10W CFL | 7W Standard LED | 5W LUMENITE LED |
| --- | --- | --- | --- | --- |
| Lumens Per Watt | 11.25 | 45 | 60 | 90 |
More Power to you!
Power can be defined as the rate at which electrical energy is consumed by an appliance. LUMENITE LED lights consume only 1/10th the energy as conventional lighting products. This is ensured by using advanced power management circuits in all our products.
| Lumens | Incandescent Bulb 1 year | CFL 2-5 years | LED 1-3 years | LUMENITE LED 5-10 years |
| --- | --- | --- | --- | --- |
| 450 | 40W  $5.34/year | 10W  $1.34/year | 7W  $0.93/year | 5W  $0.67/year |
| 800 | 60W  $8.02/year | 13W  $1.74/year | 10W  $1.34/year | 7W  $0.93/year |
| 1100 | 75W  $10.02/year | 16W  $2.14/year | 15W  $2.00/year | 9W  $1.20/year |
| 1600 | 100W  $13.36/year | 20W  $2.67/year | 20W  $2.54/year | 15W  $2.00/year |
Quick Tip!
The brightness, or lumen levels of the lights in your home may vary widely, so find the best replacement for your old bulb depending on the output you desire.
| Old Bulb | 100 W | 75 W | 60 W | 40W |
| --- | --- | --- | --- | --- |
| Replace with LUMENITE LED | 15 W | 9 W | 7 W | 5 W |

Look for this Icon!
Icon used to represent the Lumens of a Bulb. Here, the icon represents an output of 800 Lumens.
CRI is all about
C
o
l
o
u
r
!
CRI measures the accuracy of a particular light source in rendering the color when compared to an ideal or natural light source. It is measured on a scale from 0 to 100, where higher the rate, higher will be the color rendering ability of the source.
CRI stands as a measurement base in the lighting industry to differentiate brightness, color accuracy, shade discrimination among different light sources. Lights with index greater than 90 are generally considered High-CRI lights. It is recommendable for many applications even for home uses, since it creates a feel of comfort with a first-rate of natural lighting. A light source with CRI-index less than 80, cannot render the color with accuracy and proper brightness. So a High CRI light is always preferable for all type of purposes.
| CRI | Usage Scenario |
| --- | --- |
| 90 – 100 | Colour matching, Art Galleries, Ateliers, etc. |
| 80 – 89 | Homes, Restaurants, Textile stores, etc. |
| 60 – 79 | Offices, Schools, Light Industries, etc. |
| 40 – 59 | Heavey Industry |
| 20 – 39 | Outdoor |
| <20 | Rarely used |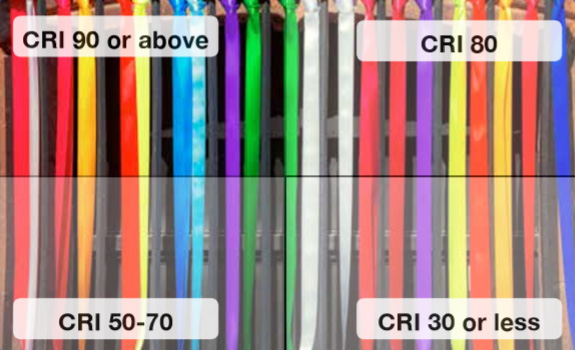 The images above illustrates the effect of CRI on color output.Objects exposed to various lights with various CRI rating can be identified with different colors, with variations in their level of detail and saturation.
Correlated Colour Temperature
CCT measures the colour of a light source using Kelvin (K) temperature, which indicates the warmth or coolness of a lamp's colour appearence. The lower the Kelvin temperature (2700- 3000K), the warmer the colour of the light, while the higher the temperature (3600-5500K) the cooler, and more bluish the light appears.
Typically warm light sources are used in retail, restaurant and home applications to create a sense of comfrot and warmth. Cooler lighting sources provide a higher contrast and are preferred for offices ans similar applicaitons to create a sense of alertness.
CCT(K) CRI
Associated effects and moods
Applications
5500-6500K  80CRI
Natural Outdoor Light
People, Plants, Pets, Offices, Schools, Retail Sotres, Medical/Dental Facilities, Factories, Printing.
5000K  91CRI
Bright, Clean, Lively
Graphic Industry, Photography, Etc.
3500K 85CRI
Neat, Clean, Efficient, Neutral
Offices, Schools, Factories, Retail Stores
2700-3000K  82-85CRI
Friendly, Inviting, Intimate, Personal, Exclusive.
Non Threatening.
Public Reception Areas, Showrooms, Film Industry, Restaurants, Hotel Lobbies, Boutiques.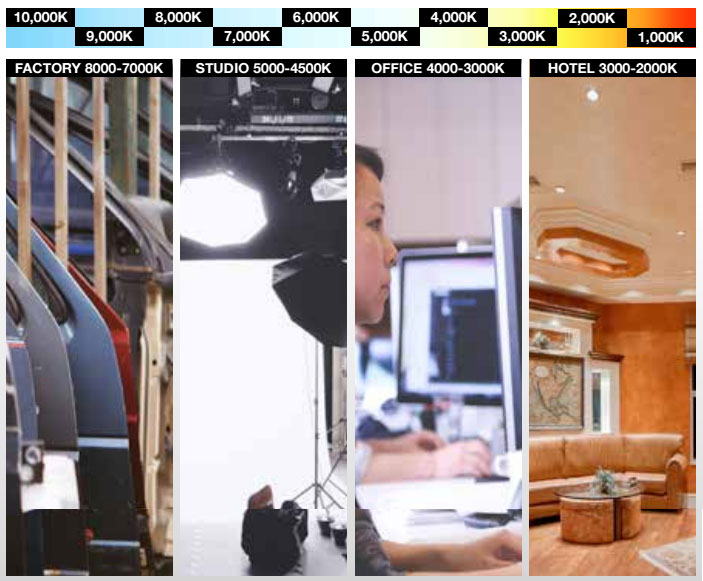 Is your world flicker free?
All light sources have a degree of flicker inherently present in them. Flicker issues in LED lights started to emerge due to the need to lower the cost and size of LED lamps.
Most cheap LED lights use very poorly built power drivers which can cause flicker and even result in outbreak of fire accidents. Cost and size can be reduced by only minimally processing the AC signal, which directly exposes users to double line frequency flicker, similar to the days with magnetic ballasts for fluorescents. And the problems gets even worse when LED lights are being dimmed when directly visible flicker can occur depending on the dimmer – lamp compatibility.
Even at higher frequencies (up to 2 KHz) flicker can induce eyestrain and fatigue due to eye movements or 'saccades'. A saccade is quick, simultaneous movement of both eyes between two phases of fixation in the same direction. These are needed to see as else our vision would start to fade. When lights flicker the image processors in our brain start to get confused, resulting in eyestrain and fatigue. This is a subliminal, unconscious effect, and we normally don't associate these problems with flickering lights.
Lastly, flicker in a light source may cause rotating objects to stand still or move at much slower speeds. This can result in hazardous situations when objects may seem safe to touch because they appear to move slowly but in fact have high speeds which can cause injuries.
LUMENITE products are made taking into consideration the above hazards and built with extreme precision and using the highest certified power modulation component making them close to 99% flicker free!
TECHNO INFO
CE Mark – all electrical equipment must bear the CE mark as made mandatory on the 1st  January 1997. Products must be tested by an independent body and conform to safety  requirements.
Class I – the luminaire is insulated and earthed. If the insulation protection ceases to be  effective, accessible metal parts of the fitting will be protected by the earth. In case of fault:  protection by power supply switch-off by overcurrent protection devices.
Class II – these luminaires offer higher standards of electrical safety. With reinforced or double  insulation, they do not need earth protection. In case of fault: the added insulation provides  double protection for exposed metal parts.
Class III – the luminaire is intended for use with low voltages, max 50v in conformity with  SELV (Safety Extra Low Voltage). In case of fault: protection due to the voltage of 12v being,  in effect, not dangerous.
F Mark – Lumineire suitable for direct mounting on combustible or flammable surfaces.
The CB Scheme is an international program for exchange and acceptance of product safety  test results among participating laboratories and certification organizations around the world.  The CB Scheme offers manufacturers a simplified way of obtaining multiple national safety  certifications for their products.
German organizations that work to validate the safety of products of all kinds to protect  humans and the environment against hazards. They examine plants, motor vehicles, energy  installations, amusement rides, devices and products (e.g. consumer goods) which require  monitoring.
IK Rating
IP Rating
Cut out
Digital Addressable Lightin interface.
0-10 Dimming
0-100% Dimming
Horizontal Rotation
Vertical Tilt
Vertical Double Tilt
Fire-rated
Save
Save
Save
Save
Save
Save
Save
Save
Save
Save
Save
Save
Save
Save
Save
Save
Save
Save
Save
Save